6-bedroom vila in the heart of Sofia
An entire house with garden in the middle of the center of Sofia, just next to the main pedestrian street and meeting points - it is a nice mixture of happiness, isn't it? 🙂
Traveling with friends, families or colleagues is very exciting, especially when you share the accommodation and space together. Having 6 private bedrooms is a big advantage, so your privacy is untouched. Even more, the 3 separate toilets and 2 separate showers makes your mornings more relaxed. The secluded garden, hidden in the small streets of Sofia is a nice gift in the busy town. Hi-speed wi-fi even in the garden.
The house itself is 130 years old, but it has gone through restoration. The six rooms are: a big attic room for up to 4 or 6 people, 3 double rooms and 2 twin ones. On the bottom floor is the kitchen where you can store and cook food, make coffee or tea, etc. The dining room is there also and in the next space you can find a computer for guests needs. There are board games provided too. The place is suitable big groups of traveling friends who wish to book the whole house to themselves and relax together.
The entire house is suitable for up to 16 people

Here you will enjoy:
- Uniqueness and personal touch in the room design.
- Solid wide wooden beds with queen- or king-size mattresses.
- Quiet backyard for recreation or socializing.
- Central location in a vivid neighborhood, well connected to public transport, close to landmarks and artistic spots.
- Quality and healthy cuisine in the nearby traditional, bio-organic, vegetarian or Ayurveda restaurants or tea house.
- Fast and reliable WiFi connection.
- Organic toiletries for just a bug.
- Tips, suggestions and assistance with everything you need during your stay.
Family & Friends Attic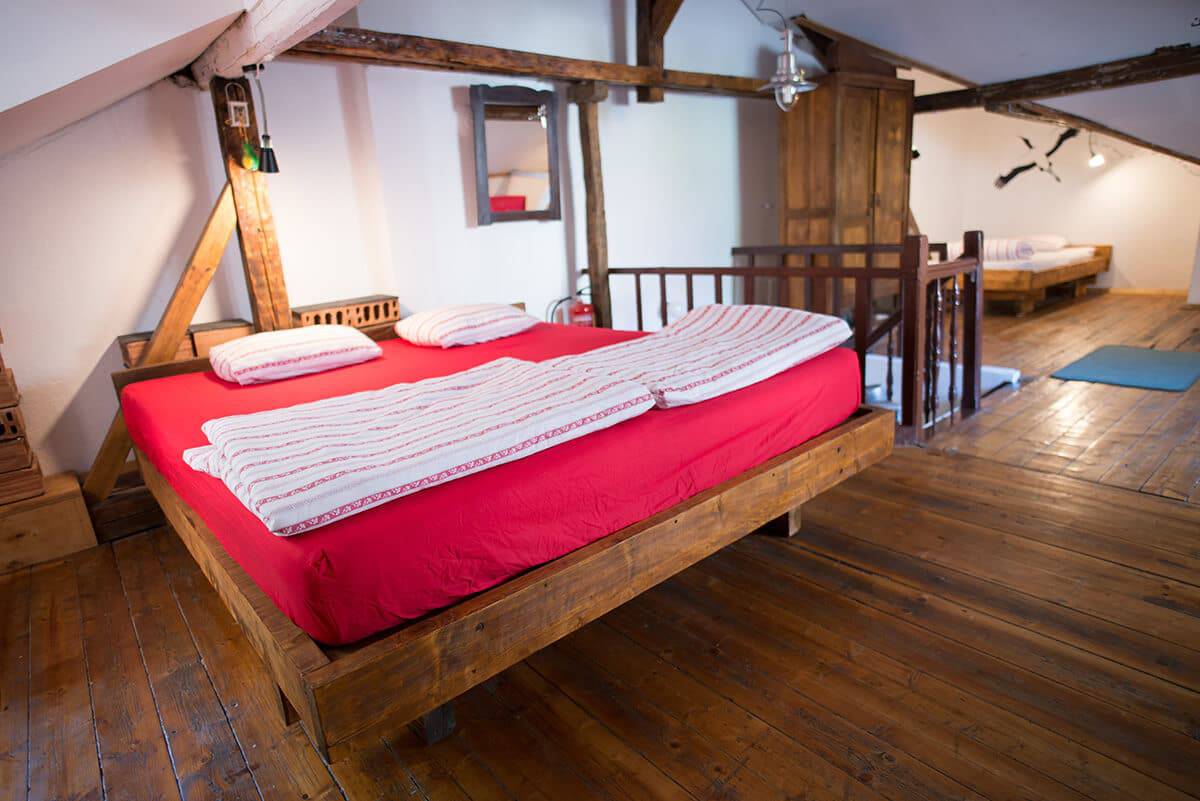 The attic accommodation is on the top floor of the house. Very quiet, sunny and with a view. The dwelling has a very lively look since the roof construction gives it a nice curve on the ceiling. Aside from the beds, floor sofas with pillows are provided for friends and children to play or just hang out.
Events
The house together with the garden is a place suitable for small private events like birthday parties, launching new products, christmas parties, etc. The advantage of the house, for using it as an event center, is that it has a much more artistic atmosphere than that of a conference hall or a hotel auditorium. Of course, catering and decorations can be provided as well, along with other preparations needed for the event.
NOTE:
Booking the house for event is separate from booking it for accommodation. Events until 22:00 h. and only on request, NOT booking via booking engines
For persons up to 18 years old - only with the presence of parents.
Price per hour - 45 BGN
Minimum hours - 5 hours
Cleaning fee - 55 BGN
Demage and noise deposit - 350 BGN!
Perfect location